With the towing company on the schedule for tomorrow morning, I wanted to see how many of the little things left on the pre-airport punch list I could get done.  A pretty successful, if short, session, I think…
Riveted and installed the lower cowl support bracket that was fabricated on the weekend.
Torqued and safety-wired the propeller.  Temporarily reinstalled spinner with three screws (this won't be final installed until the engine is ready to be run; inspectors will want to see the prop bolts.)
Re-checked the alternator belt tension, which is fine with a breakout force of around 130-140 in/lb on the beam torque wrench.  (The desired spec is 11-12 ft/lb, aka 132-144 in/lb).
Tightened up the nosewheel axle bolt temporarily; we'll revisit all the gear hardware at the airport again.
Cut the temporary zipties off the gear legs, and replaced them with new ones after placing a wrap of orange silicone fusion tape around the leg under each tie location.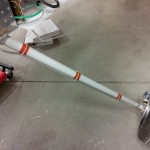 Cleaned up a wavy spot in the aft edge of the canopy on the RH side, straightening it out along a marked tape line.  This gives an even gap ~1/8″+ all the way around the canopy split, which should be wide enough to prevent expansion in the heat causing the canopy to stick shut, based on what I've read.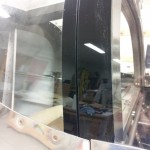 Swept the shop, moved some things around, and pulled the plane in front of the garage door, so it's ready to roll out tomorrow.  Taped down things that could rattle in the wind while moving.  Vacuumed the various debris out of the cabin.  Took a fistful of photos.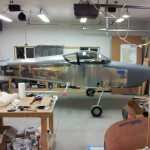 After 1751.5 shop hours, ~5.5 years after project start, she's going to the hangar.
Hours: 2.4 | Posted in Canopy & Frame, Cowling & Baffles, Engine, Gear & Fairings | Comments Off