Before progress can continue, some changes in the shop needed to occur, which ended up taking most of an entire day to effect.
Mounted up a pull-down cord reel Allison got me for Christmas; when I built the shop, I installed an outlet on the ceiling for just this purpose: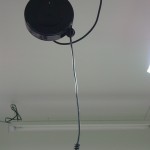 Built a simple shelving unit out of the fuselage crate, to get it off the floor and free up floor space to build the tailcone, especially important now that the garden tractor has the snowblower mounted for the winter, and is competing for even more space, and not wishing to throw a car out into the snow and freezing rain: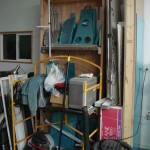 And finally, built a downdraft priming table of sorts, with a 20″ box fan, a furnace filter, half a sheet of 1/4″ plywood, some 1×3′s, and other scrap bits of wood from around the shop.  The box fan is mounted in the box at the bottom, and draws air down through a furnace filter suspended over it; air which is pulled down through the hardware-cloth table surface on which the parts to be painted are laid.  Plastic sheeting on a simple frame should help to contain overspray as well.  A slot left open just above the filter allows it to be removed and replaced with a fresh one.  This will hopefully make winter priming possible, more easily than last winter's garage-door-frame-and-plastic-sheeting assembly, which had airflow and heat issues.
Posted in Shop | Comments Off