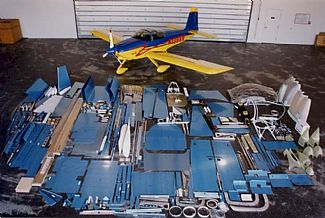 The two-seat RV-9A is one model in a series of kitplanes designed by Van's Aircraft in Oregon. All of the RV series are low-wing aircraft of traditional metal construction. Most come in two varieties: tailwheel, and nosewheel (known as the "A" model). The other major choice is tip-up or sliding canopy, but the variations in each plane's configuration are limited only by the builder's imagination.
The RV-9(A) is different from its predecessors in that it is not designed for aerobatics. Some see it as a particularly well-rounded RV, as the longer wings reportedly contribute to greater stability, but the handling "feel" of the RV series is still present. The RV-9(A) sacrifices a few knots of top speed compared to the other models, but also stalls slower-which can mean easier to land and less energy on impact in the event of a crash. The long wing is reportedly quite happy at high cruising altitudes. One local builder often reports his "fun flights" around the area at fuel flows in the 3-4GPH range, at a speed which still beats most training/rental airplanes.
RV series aircraft are the most popular kitplane produced, with over 6,000 aircraft completed and flying around the world (the total experimental fleet is around 30,000 in the USA). There is also a strong support network through local builder groups, such as the Minnesota Wing, and online sites like RivetBangers and Van's Air Force. This network of people with experience is part of what drew me to this series of aircraft; knowing that other people had been able to finish the project, and were willing to help those working on their own.
RV-9A Specifications (based on 160hp engine):
Exterior Dimensions

Wingspan

28 ft

Length

20 ft 5 in

Height

7 ft 10 in

Wing Area

124 sq ft

Weights

Empty Weight

1028 – 1075 lbs

Gross Weight

1600 – 1750 lbs

Loadings (160hp)


Wing Loading

14.1 lb/sq ft

Power Loading

10.9 lb/hp

Powerplant/Systems

Engine


118 -160 hp

Propeller

Fixed or C/S

Fuel Capacity

36 US gal

Other

Baggage Capacity


75 lbs

Speed – Solo Weight / Gross Weight


Top Speed

195 mph / 194 mph


Cruise [75% @ 8000 ft]

187 mph / 186 mph


Cruise [55% @ 8000 ft]

167 mph / 166 mph


Stall Speed

44 mph / 50 mph

Ground Performance – Solo Weight / Gross Weight


Takeoff Distance

300 ft / 475 ft


Landing Distance

300 ft / 450 ft

Climb/Ceiling – Solo Weight / Gross Weight


Rate of Climb

1,900 fpm / 1,400 fpm


Ceiling

24,500 ft / 18,500 ft


Range

Range [75% @ 8000 ft]

700 sm

Range [55% @ 8000 ft]

850 sm