Posted in
Operations
Since finishing up the flight test hours a few weeks back, we've done a bit of flying in the plane.  Allison went up for her first flight the same evening I finished the 40 hours, just a local flight down the Mississippi, across to the farm, up and around our house, then zipped up to Hastings to circle her school, out to Ellsworth, and back to the field before sunset.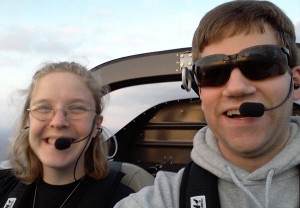 In the following weekends, we planned some short XC flights to visit family & friends, but each has so far been cancelled or shortened by weather.  Such is the flying life in fall –  early morning departures were been pushed back to afternoon while waiting for clouds to clear.  But with the speed of the RV, it was still possible to make the trips and squeeze in short visits, still getting back before nightfall.  One trip had us flying south of the cities at twilight…quite beautiful with all the lights laid out below; the cellphone camera did it no justice.
First, we headed up to the Superior WI area to visit Allison's sister & brother-in-law, and premiere the videos we put together from all the footage I shot at their wedding earlier in the fall.  The next weekend, we popped up to Fergus Falls MN for a late lunch with her parents, and show them the videos.  (Ipad: flight bag, mobile office, and video player all in one.)  We've twice tried to make Madison WI to see a college friend, but cancelled both times.  No flying this past weekend due to weather and work commitments; I might be able to sneak away for a day this week if the weather turns decent.