Hours:
8.0
| Posted in
Cabin & Interior
,
Canopy & Frame
,
Cowling & Baffles
,
Engine
,
Plumbing
,
Wing & Tail Joins
Another warm day (but this time breezy and hazy as well).  Trying to cross things off the list…
First on the agenda: loaded up the empennage and moved it to the hangar, where it will wait with the wings until final assembly.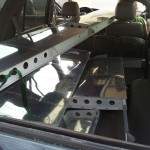 Next, set up the day's fiberglass job.  Added a couple plies to the nose flange layup from yesterday, to give it more stiffness.  Closed off the inboard ends of the cooling inlet ramps with a 2-ply layup.  Added flox to a couple spots and deep voids.  Again today, I meant to get two rounds done, so one could cure overnight, but ran out of day.
Spent awhile fussing with canopy seals.  The edge-gripper bulb seal I wanted to use on the front seems a bit too thick, as it's interfering with the closing of the canopy — the latch requires immense force to actuate.  So, that was removed for now.  I added the same bulb seal to the side rails, and that also cause latch trouble, so I ended up slicing the bulb in half for about 60% of the length of the side rails.  It looks ragged when open, but seals fine when closed.  This is easy to replace later — I'm searching for a smaller bulb, but the 3/8″ is the smallest I've found so far.  I may have to explore using foam strips or something.  Also ran into trouble with the rear rollbar seal, again, difficult to close & latch.  Will explore more seals; it seems this is a spot everyone struggles to make work.
On to the "little stuff:"
Slipped some clear tubing over a couple fluid lines in the tunnel to prevent any possible chafing from wire bundles (clearance is fine, but vibration does things…)
Installed the fuel selector & torqued all the fluid fittings in the center tunnel.
Installed the fuel pump and torqued those fittings.
Installed the metal plug in the hole that provides access to the nose leg bolt.  Sealed up with a good layer of firewall sealant on both sides.
Installed the bolts on the RH lap belt, having received my order of hardware from Spruce.
Finished off the firewall wiring passthrus per instructions, since wiring is complete.
Torqued the forward bearing on the aft elevator pushrod.
Checked that all bolts on the flight controls were torqued, and torqued them where they were not.
Swept the shop and put away tools, brake bleeding stuff, and so on.