Hours:
9.5
| Posted in
Endgame
The last big push is underway…
Mike, a tech at SteinAir who has a Zenith on the field, brought down the static & transponder test gear, and I met him at the hangar this morning.  An hour later, we had tested the static system for leaks (it's good), and put the encoder/transponder through their paces.  I'm within 20 feet up to 12,000′, which was where we stopped testing.  Allison ran out with the checkbook that I forgot, and we got the inspection sticker in the log.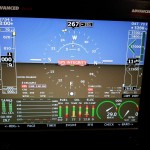 Installed the document pocket I picked up on the last Spruce order…it's attached to the side wall with velcro.  Finished removing fairings, panels, and wheelpants.  With the wheelpants off, I was able to drill & install the miniature nutplates I bought, to the outboard wheelpant brackets.
Measured and set up the assortment of strings to align the gearleg fairings, and clamped them down in place.  I'll need to draw some marks from the fairing to the leg, so they can be reinstalled into the correct position without having to redo all the string business, should they need to be removed for service.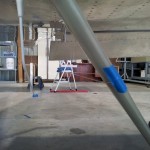 Started working through the condition inspection checklist, for one last checkover of everything on the plane.  Once finished, I'll sign off the inspection in the logbook, which is part of the airworthiness process.
It cooled off as dusk prepared to fall, so I pulled the plane out and finished off the day with an engine runup.  I had adjusted the idle stop on the throttle, since the engine wanted to quit the last time I pulled it to idle.  In order to check that it's set right, the engine needs to warm up, so I ran it for awhile keeping an eye on the temperatures.  The idle setting checked out perfectly–she idles right around 600 RPM…it's a touch rough down there, but it stays running, and bumping the throttle to 680 or so smooths it right out.  Another round of mag checks, and a verification that "off" on the P-lead does kill both ignitions.  Also checked the parking brake holding power.  All in all, added another .3 to the clock; engine runs should be complete tomorrow.
Also spent what probably amounted to an hour or two sitting in the seat, learning the buttonology/knobology of the EFIS display, setting up radio sidetone, audio alert volume, and so on.