Hours:
2.2
| Posted in
Engine
,
Wing & Tail Joins
Sanded the empennage tips to smooth the micro filler I added earlier this week.  Also the empennage fairing, which looks decent, though I'm sure there are some ppinholes I've still missed.  Fit the rudder top back to the rudder, in order to sand the big glob of micro I put on the nose of that tip; the side corners of the tip were not even with the rudder skin, aand they now are.  Now I'll need to fill the air bubble holes in that area, but that should be easy enough.  Hopefully will spray primer on some of this stuff over the weekend.
Moving to the engine, I was able to knock a couple minor things off the list.  Added a safety clip to the oil drain valve, that would prevent it from coming open unintentionally.  Also, removed the upper oil cooler line, changed the 45* fitting on the engine to a straight, and reclocked the 45* fitting on the oil cooler.  Then replaced the removed line with a longer one, to add a bit more flex, and ensure that the minimum bend radius of the hose is met.  Thanks to Tom at TS Flightlines, who turned around the order for this line in one day (and previously made all the other engine hoses to my specs).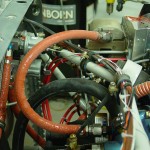 Milestone: 1600 hours in this session.  We've now reached the low-end of my estimated total hours range.