Hours:
5.0
| Posted in
Spars & Skeleton
Cleared the priming hurdle today with about 7 hours in the shop (though some of that time wasn't build-related).  Hung up plastic from the tracks of the big garage door, and a piece on the floor, to create a priming booth about 9′ x 8′.  Set a strip of plywood on a couple sawhorses inside for a priming table, and held the plastic down with some 2×4′s.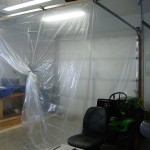 Actually worked pretty well, though a bit slower than priming outside, due to drying times.  Not sure if that's more due to the lower temps (I run the shop temp at 45-50 when I'm working in there), or the lack of air circulation.  I settled into a routine of doing the first light coat, waiting a bit for it to tack, laying the second, slightly heavier, coat, then opening up the plastic wall and turning on the heater fan (with heat, if the temp was getting low) to dry the pieces, before flipping and spraying the backsides with the same process.  Got all the rear spar parts and main ribs primed (whew!), and deburred the holes in the spars during downtime.  Everything should be cured nicely tomorrow, paving the way for skeleton assembly.
In an earlier post, I wrote that my goal was to have the skeleton complete by the end of this month (a revision from my original goal of Christmas).  Didn't quite hit that target, but I did come close…ought to have it in the bag this week.  I bought lumber for the wing stands today as well, so after getting those built, it's on to skins, J-stringers, leading edges, and tanks.  New goal…tanks complete by my birthday (March 1)?  Not sure if that's realistic or not; Smitty logs about 50 hours for each segment of each wing (prep, skins, tanks; I believe he built his wings separately), plus another 50 each for ailerons & flaps.