Hours:
9.5
| Posted in
Engine
,
Plumbing
,
Wings
We rented a 12′ trailer after church today (my 10′ is too short) and took the wings to the airport, secured to their cart.  Definitely more space in the shop now, with that missing.  The 11′-something wing cart, seemingly a large piece in the shop, sure looks small in a big hangar.  Allison sees this as a sign the light at the end of the tunnel is approaching, and has visions of her car nestled in the garage this winter.
Back home, time to get the rest of this thing finished so it can go to the hangar too…(someday).
Torqued and sealed many of the FWF hoses; the oil lines and connections at the transducer remain.
Finished install of the heater SCAT tubing, trimming to length and securing, installed a heat shield on the #2 exhaust pipe where the tubing passes by.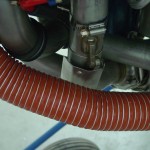 Spent quite awhile sorting out the routing of ignition wires and securing them behind the engine so they're not rubbing on anything, and have enough slack to account for movement of the engine.  The ignition leads are now complete.
Ovalled an adel clamp and used it as a bracket to hold the battery charger plug near the oil filler, where it can easily be accessed via the oil door.  Trimmed the charger leads shorter and put on new ring terminals; secured the battery cables to the battery.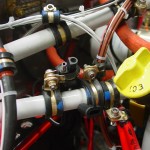 Cut a new FAB top mounting plate with the fuel servo hole moved as far the to right as it would go; this will help account for the servo's offset to the left, and give more clearance between the FAB and the cowl.  Fit and drilled the FAB plate to the fiberglass shell, temporary-bolted the mount plate on, then fit that assembly to the engine.  A bunch of iterative fitting & trimming with the bottom cowl ensued to get alignment with the air scoop; I tweaked the front of the top plate, and had to split the fiberglass shell to angle it downward.  That'll require laying up some glass to bridge the gap.  I drilled the forward part of the box to the plate, to hold it in the correct position.