Hours:
3.4
| Posted in
Center Fuselage
,
Forward Fuselage
Finished up a couple odds 'n' ends, and started the fuselage riveting tonight.  I had read that the rivet immediately above the rear spar bars can interfere with the rear spar stub on the wing, so I dimpled that location for a flush rivet.  Also pre-riveted the center section doublers to the side skins as called for (though the plans call out 5 and 6 rivets, I believe they mean 6 and 7; Smitty came to the same conclusion.)  Riveted the angled side ribs to the skin on all rivets that aren't shared with the side skin; this required temporarily removing the bolt from the rear spar to gain access to the rivet tail.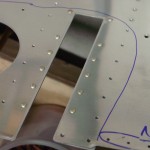 With those preparatory steps out of the way, it was time to marry the tailcone and center fuselage for the final time.  Once the double row of holes on the bottom was clecoed, I added the longerons and clecoed up to the 904 bulkhead, then added the side skins and clecoed those in place.  Firewall is added next–the angles clips and side stiffeners must be riveted to the firewall at this point if not already done, as access is limited once the side skins go on.
After the firewall was in place, I added all the structural pieces between the 904 and the firewall.  Squeezed the accessible rivets on the inboard floor stiffeners in preparation for adding the forward bottom skin.  Shortly after that, I squeezed my left pinkie finger, so it was time to call it a night.  The aftmost rivets on the floor stiffeners will need to be set with the gun, as they're tucked too far under a flange to get at with the squeezer.